Hey folks!
WHEW, it's been a busy fall already and it's not even close to Halloween yet. What are you going to dress up as?? I am obviously going to go as a sexy whistleblower because I am all about that tacky political costume life but you do you!!
I went to Chicago and Austin and this Saturday, Chuck and I fly to Denver. I *say* I went to Austin, but technically I went to a resort with an Austin address:
I didn't see downtown for a second, so I obviously need to go back ASAP. That said, it was a gorgeous resort because my company always picks the best sites for our conferences. I got to meet some alpacas! Texas is wild!
In other news, I made Chuck go apple picking with me and the two friends who introduced us, so I am embracing Midwest fall weather with the full force of my white lady nonsense. I swapped out my summer clothes for my winter ones and realized half my sweaters have animals on them so my fall wardrobe would not be out of place in a kindergarten classroom, probably. I have started my annual research for proper fall boots, but we all know I will probably just end up getting another temporary cardboard-like pair from Forever 21 before they finally shutter forever.
It's decorative gourd season!!! I love summer but my body is readyyy.
Do you subscribe to Austin Kleon's newsletter about creativity? I know I've mentioned it a few times in this newsletter, but one of his major tenants is that, if you're in a creative rut, try making something with your hands. I did that in the evenings this week and made a good old-fashioned zine. I got the idea last fall when visiting Sarah with Stef, and we all went to a zine making workshop in Salt Lake City. Anyway, it's about my hair…? Which, if you know me IRL, might make sense. Basically, I have a ton of wild, curly hair and it's my most remarked-upon physical feature (aside from having an incredible ass, obvi!!!). Making a zine about one's hair is maybe the ultimate vanity project, but it was a ton of fun: I went through old pictures, scanned them, had prints of the originals made, and collaged them all to go along with an outline I'd written up. Almost everything I do now involves a screen, so it was nice to spend a few nights with some glue sticks and paper.
That said: I've digitized it! If you want me to send you a 14-page PDF of collage pages, reply to this email and I'll get it over to you. I thought about hosting it on my online portfolio, but idk, I kind of like the idea of this not living on the internet, at least for now.
Meanwhile, here's a gem I unearthed while going through my files for old photos: My ID badge from the summer of 2004, when I was a home health care aid. I kinda dug wearing scrubs!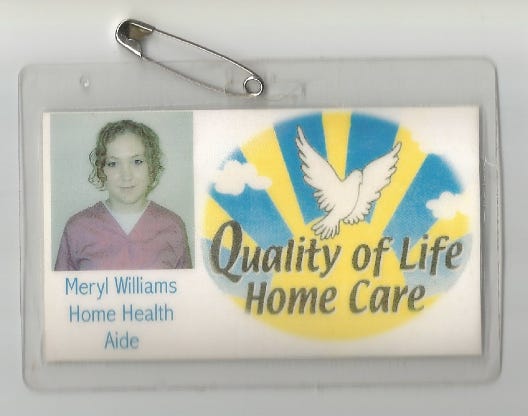 But enough about that – Let's move on to the matter at hand:
What I've Been Making for the Internet
What I've Been Reading
What I Loved This Week
~Writing Stuff~
Okay, that's all for this installment! Hit reply if you like this newsletter and I'll write you back. Or, hit forward if you've got a buddy you think would be into it. Later, folks!
About me: I wrote a collection of essays about love, loss, and roller derby. Buy a mini version of it for less than five bucks. I'm currently based in the Mid Ohio Valley after having lived in Chicago and Portland for a few years. Follow me on Instagram (@merylkwilliams) and Twitter (@MerylWilliams) for social media posts about postseason roller derby, misleading Breaking Bad TV pause screens, and making kombucha, because Chuck and I do that now.
Like this newsletter? Reply with some nice words and/or forward it to a buddy! (Said buddies: Subscribe here to get this newsletter every two weeks.)
Thanks to Owen Williams for making my sweet banner art!
$ Consider supporting this newsletter via this digital tip jar $